Bill Burke
Bill Burke was born in Richland, Washington in 1953, moved with his family to College Station Texas in 1957, back to Richland in 1958. Started shooting 22's, with his dad in 1960. Believes he read every American Rifleman from 1960 to the present. It was in the pages of the American Rifleman where he started reading about shotgun sports, Trap from the Grand American, and the National Skeet Shooting Championships. Bill received his first shotgun on Christmas Day 1964. He hunted upland game, ducks and geese with his father and friends, until moving to Daytona Beach in 1965. No shooting until moving to Palo Alto, California in 1967. One of Bill's high school soccer teammates needed to find his replacement as a trap boy at Peninsula Sportsmen's Club, in early 1969. That marked the beginning of his skeet journey.
The club hosted a number of at the time, major shoots in California, state, Eddie Bauer, Western Open, NorCal, and the Bill Rogers Open. It was the home club to D. Lee Braun and his pupil's; this is where Bill picked up the fundamental principles of the game of skeet. Bill pulled for Lee for the better part of 3 years, weekends and the occasional Wednesday. Another benefit of being a trap boy in 69-72 was that there were a number of great shooters shooting at the club. Kenny Barnes, Phil Murray, Tom Sanfilippo, Andy Laird, future California NSSA Hall of Famers, along with Walt Badorek, Alan Clark (11 years old) John Saterwhite and many more good regional shooters.
In late 1969 Bill shot his first registered shoot, a very inauspicious beginning, with a screaming 63, a month later after saving enough money to buy an 1100 skeet gun score jumped to an 89, modified choke really showed itself in the 63. The rest of the early '70s were spent acquiring the rest of the skeet guns, 3 870s. After getting his lottery number (draft, Viet Nam) Bill quit school and got a job to support shooting habit. Through the '70s and '80s, Bill shot as much as money would allow, usually 300-400 targets a year to stay classified. High points of the 70's AA in all 4 guns (74) AA in the 12 ga. (74), drove to the world shoot in 74, and 75, could actually afford to fly in 78. Bill shot minimums in 1980, second team All American in 81. Bill has been a circuit road warrior since 1992 and continues to travel to several major shoots a year.
Bill's association with Kolar started in 1997 helping out in the Kolar booth at the world shoot and still helps during the world shoot. Bill met Dan in 2001 or 2, gave him a couple of lessons watched him develop as a shooter, eventually becoming friends and getting him involved at the State, Zone, and National level. Bill had been a National director for 6 years at the time he asked Dan to consider getting involved at the National level, this relationship helped build the working relationship needed so that , when in 2012 they were offered an opportunity to represent the Kolar Arms Company as the west coast factory dealers of this fine American made shotgun. Since then L&B Kolar Guns Inc business has grown rapidly throughout the Pacific North West and beyond.
Personal Info:
• DOB: 01/18/1953
• Height: 5'10"
• Right hand, Right eye dominant
• Home Club: Stockton Trap and Skeet
• Co-Owner of: L&B Kolar Guns Inc
• Instructors: Lee Braun (Osmosis), George Desatoff, the squad
Shooting Equipment:
• Gun: Kolar Max Skeet 30"/32"/34"3-BBL, Custom All-Around Combo
• Glasses: Pilla Magneto's
• Ammo: Remington STS
Sponsors:
• Kolar Arms
Shooting Accomplishments:
• 13-Time California State Champion
• 8-Time Zone 7 Champion
• Masters Co-Champion
• RU World Champion: 20 Gauge, 28 Gauge (2), .410, HOA
• World Champion HOA
• High Average Leader Doubles
• 9 400×400's
• 3 500×500's
• 1 550×550's
• 21-Time California State Open Team Member
• 17 -Time Zone 7 Open Team Member
• 17-Time All American Open Team Member
• Zone 7 Hall of Fame
• California Hall of Fame
• NSSA Hall of Fame
• Director- Zone 7 Skeet 12 years
• Director- National NSSA 12 years
• NSSA – EC member Zone 7 2 years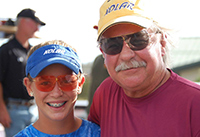 Kolar Arms Corporate Office
1925 Roosevelt Avenue
Racine, WI 53406
Ph: (262) 554-0800
Fax: (262) 554-9093