Chase Perry
Rogersville, MO
Trap: AIM & ATA# 1311126 Sub Jr
Sophomore (15) @ Logan Rogersville High School
Member of the Wildcat Trap Team 2013-Present
Team Kolar 2017-Present
Kolar Max TA Combo 34"/32"
Chase is 15 has been blessed w/ height & strength at 6'4". Many times he has been called man-child or there is no way he is a Pre Sub or Sub Jr.  He started shooting American trap in 2014 at 9 years old. He watched his older brother & his teammates (who are state & national level shooters) shoot for a full season anxiously waiting for his time to shoot. In that year he watched & soaked up as much information about trap shooting as he could. Chase shot & won many events as a pre-sub (12 & under) competing at the Sub Jr (12-15) level when he first started shooting. The AIM events are the only event where he competes against athletes of his own age but not size.
His goal is to be named to the ATA All American Sub Jr team in upcoming 2018-2019 season. Hopefully w/ his new Kolar Max TA along with his drive, strength, knowledge, will & hard work he will reach his goal.
Chase has been named to the LRMS high honor roll the last 2 years. He also competed on the football, wrestling & trap team. He is able to keep up w/ his school work, practices, farm work & chores while maintaining his grades.
Chase has accomplished a lot in the 6 years that he has been competing. Competition has increased since he started shooting. In the beginning shooting in the '90s would earn him awards and acknowledgments. These day's 99 & 100 straights are the goal from Pre Sub – Senior Vet. Chases Browning XT has got him far, but he has worked hard to earn his Kolar Max TA & we hope that his new gun will help take him to the next level.
2018
LRHS Wildcat Trap Freshman Letter
AIM Southwestern Zone Sub-Junior Captain
MO STATE Team Sub-Junior Captain
Southern Grand, Silver Dollar Gun Club Odessa, FL
Handicap Sub-Junior Champion x 4 events
Doubles Sub-Junior Runner Up x 2 events
Singles Championship Sub-Junior Runner-Up
HAA & HOA Sub-Junior Runner-Up
Bella Vista Sub-Junior Champion Singles & Doubles
AIM March MSE MO Sub-Junior Champion
MO Southwest Zone Handicap & Doubles Champion
MO State Shoot HS State Championship w/ his Wildcat Trap Squad
Kansas State Shoot HS 2nd w/ his Wildcat Trap Squad State AIM Champs
Kentucky State Shoot
Doubles D Class Champ x 2
Handicap Sub-Jr Runner Up x 2
South West Zone/MO Fall Handicap
Doubles SW Zone Sub-Junior Champion
MO Summer HC Single Sub-Junior Champion
MO Summer HC Sub-Junior Champion x 2
AIM Grand America Nationals Doubles Class B 3rd
Grand Nationals = 11 days of shooting & hit 2444 out of 2600 targets
100 straight, 1st 50 straight in Doubles, HC 98/100 3x + 3 punches
Sub-Junior HOA 8th place out of 110
B Class HOA 2nd
Event 6 Zoeli Doubles 98/100 Sub-Junior Runner UP
Event 7 Sterling Glass Singles 100/100 tied for Champion of Event w/ 80 others
Event 8 Gipson Rickets Handicap 98/100 Sub-Junior Champion
National Team Race MO Sub-Junior Caption 100/100
Event 20 Kubota Doubles 98/100 Sub-Junior Champion
Event 24 Grand America Handicap 97/100 Sub-Junior 3rd
2017
Team Kolar
LRMS High Honor Roll
Member of Wildcat Trap
SCTP ALL Scholastic Team
AIM Southwestern All-Zone Sub-Junior (All AIM members, Nationally, 12-15)
AIM Online Handicap Sub-Junior 20-20.5 Runner-Up (Nationally)
AIM MSE April Sub Jr 1-3, June Sub-Junior 6-9 (Nationally), July Sub-Jr 8-12
2017 May AIM Championship Zone
SW Zone Overall Sub-Junior Team R/U
Montana State ShootOut of State Sub-Junior HOA 2nd
Montana State Shoot Handicap 2nd/ Doubles Sub-Junior 2nd
Missouri AIM State Shoot Squad Champs, Singles 4th, Doubles 2nd, HC 4th
Missouri SCTP State Shoot Inter Advanced 2nd
Kansas State Shoot
HC Sub-Junior 3rd
KCTA State Zone Shoot Sub-Junior Champion HC & Doubles
Bella Vista Gun Club B Class Singles Champion
MTA Sub-Junior 2nd
Gateway Gun Club St. Louis, MO State Zone Shoot HC Champion
Missouri MYSSA Spring Breakem Team Champion & Individual HOA 2nd
January Trap & Field AIM Highlight Team pg 60
2016
LRMS High Honor Roll
Wildcat Trap
SCTP All-Scholastic Team
AIM All Star Pre Sub (12 under)
MO State Team Sub-Junior
AIM Grand Nationals Runner-Up Sub-Junior Squad Class AA
Southern Grand Preliminary Doubles D Class Champ, HC Sub-Junior Runner-Up
Kansas State Shoot Class D HOA
Missouri High School Shoot Jr High Singles Champion
AIM Online Handicap Sub-Junior 19-19.5 4th (Nationally) AIM State Sub-Junior 2nd
Kansas State Shoot White Flyer Singles & HC Sub Jr Champ, Doubles D Class Champ
AIM June MSE Sub Jr 6-9 (Nationally)
MYSSA Spring Breakem HOA
MYSSA Fall Classic Jr High 3rd
Bella Vista, AR Doubles D Class Champ
Missouri State Shoot Singles 1st C Class, HC Sub-Junior Champ & Doubles Sub-Junior 2nd
2015
Wildcat Trap Team
AIM All Star Pre Sub (12 under)
AIM Grand Nationals Doubles Sub Class A Runner-Up, HC Pre Sub 10th
SCTP Nationals InterEntry Singles 4th, HC Champ, Doubles Champ
AIM MO State Shoot HC & Doubles Pre-Sub Champ
MO State Shoot W.F.J. Handicap 18-21 yard Champ
Kansas State Shoot HAA Class D
AIM May MSE Pre-Sub Champion (Nationally)
AIM June MSE Pre-Sub 2-3 (Nationally)
AIM July MSE Pre-Sub Champion (Nationally)
AIM Online Handicap Pre-Sub 18-18.5 Champ
MO State AIM Shoot Pre-Sub Singles Runner-Up, HC & Doubles Champion
MO State SCTP Inter Advanced Singles Champion & Team Squad Champion
2014
Wildcat Trap Team
AIM Grand Nationals Pre-Sub Class C 3rd
SCTP Nationals HC Rookie Runner-Up, Doubles Rookie Champion
MO State Shoot Sub Jr Handicap Champ (as pre sub)
MO State SCTP Singles Rookie 3rd
AIM June MSE Pre Sub Third
Kansas State Shoot Doubles Sub-Junior Runner-Up
2013
Wildcat Trap Team
Help build Williams Family Trap Field, Home of Wildcat Trap
AIM Online Handicap Pre-Sub 19-19.5 Runner Up
Coaches that helped Chase accomplish his goals
Coach Kennemer
Coach Boyer
Coach Galloway
Coach Perry but most of all Dad
Honorary Coach Williams aka Grandpa's Wisdom
Community Service
Clays To Raise – MS150 Team Allison Fundraiser
Ozark Food Harvest
Paw Backpack Program, Local food pantry that sends food home for the weekend for needy children.
FFA Truck & Pull
FFA Annual Action helps build items to raise money for scholarships
NWTF annual banquet set-up & clean up
Fish-4-Tales Annual Fishing Tournament, Takes disabled kids fishing. Check it out on facebook it is very inspiring.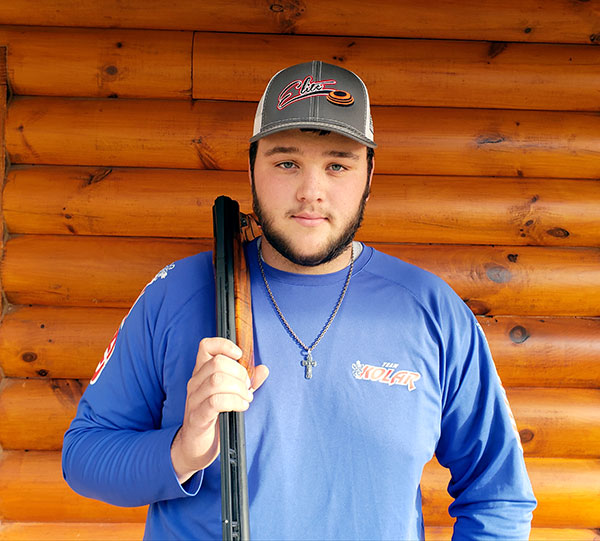 Kolar Arms Corporate Office
1925 Roosevelt Avenue
Racine, WI 53406
Ph: (262) 554-0800
Fax: (262) 554-9093