Gordon Novak
Gordon is from Bancroft, Michigan and attends Durand High School. He started shooting a BB gun in the backyard at a very young age and soon was shooting 22s as fast as his parents could buy them. His first exposure to gun clubs was going with his dad to the Genesee Sportsman Club in Flushing, Michigan to practice for a sporting clay fundraiser, and he quickly developed an interest. He started shooting skeet in 2010 with the Michigan Scholastic Clay Target Program and shoots at the Detroit Gun Club and the Saginaw Gun Club.
In 2011 he started a limited competitive schedule and won the Michigan 12 gauge championship that year, making him the youngest 12 gauge champ in Michigan history at age 12.
He enjoys hunting, fishing, and remote control trucks and airplanes, but he especially enjoys annual trips to the Gulf of Mexico for some offshore fishing. He also spends a lot of time in a home woodshop with different projects, and in 2013 he started his own business making cutting boards from exotic and local hardwoods and selling them at local farmers markets and holiday fairs. A big part of his what he enjoys about shooting is meeting people from all over the country. He is extremely grateful for the support of LP Giambrone and John Ramagli.
Shooting Accomplishments:
All American Sub Junior First Team 2012 & 2013
Junior World Sub Junior Runner Up 2011 & 2012
All American Junior First Team 2014
Class All American Team 2012, 2013 & 2014
2014 Jay Schantz High Average, HOA, 20 Gauge, 28 Gauge, .410, and Doubles
Michigan State 2011 12 Gauge Champ
Michigan State 2012 Sub Junior Champ, 12 Gauge, and .410 Class Champ
Michigan State 2013 All-State 20 Gauge Team
Morrissey Motor State 2013 12 Gauge Champ
Zone 3 2104 20 Gauge Champ
Michigan State 2014 All-State Team
Several state and local concurrent and class titles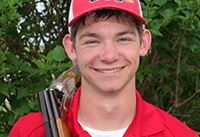 Kolar Arms Corporate Office
1925 Roosevelt Avenue
Racine, WI 53406
Ph: (262) 554-0800
Fax: (262) 554-9093