Sheaffer Stanfill
Sheaffer Stanfill shoots a Kolar Max Skeet Shotgun with a 32" carrier barrel set with a Wenig custom built stock. He is 16-years old and lives in Clarksville, Tennessee. He attends NorthStar Academy and will graduate high school as an honor student in May of 2022 with a 3.91 GPA.  Sheaffer's shooting journey started by going to the gun club with his dad, at the age of five, learning how to pull targets and all about the game of skeet. His home clubs are Montgomery County Shooting Complex, in Clarksvillle, Tennessee and Eagle Skeet Club, which is located at Fort Campbell, Kentucky.
Sheaffer began competing at shooting sports at the age of 10, winning his first junior world title in 2015 as the 28-gauge Sub-Junior Gun Champion at the National Skeet Shooting Association (NSSA) Junior World Championship. Sheaffer's strong passion for shooting has led him to achieve numerous accolades in the world of shooting to include gun championships at local, state, regional, national and junior world championships. Most recently, in 2018 and 2019, he became the youngest and only junior shooter to obtain back to back wins as the high overall gun champion for the NSSA's Junior World Skeet Championship in the sub-junior and junior divisions. At the age of 14, Sheaffer also became the youngest HOA Champion as the men's 2018 Tennessee State Skeet Championship. In addition, while winning the 2019 Junior HOA title at the Junior World Championship held in Fort Bragg, North Carolina, Sheaffer set the world record of being the only junior shooter to ever shoot a perfect game of 400 x 400. Also, at the age of 14, he became one of the youngest skeet shooters in the world to achieve AAA shooting status in all gun gauges. Since 2016, Sheaffer has earned a top spot on the NSSA's All American recognition teams for the sub-junior and junior division. Sheaffer's competitiveness has also driven him into placement on the NSSA's All American Men's Open Honorable Mention Team as a top 30 contender for the previous two years.
Sheaffer credits his supporters for his ability to follow his passion of shooting. His supporters include: the good Lord, his parents, Kolar Arms, Elite Shotguns, Howell Traps, Wenig Stocks, Triple S, Grandmama's House, and NorthStar Academy. In closing, when Sheaffer is not shooting, he enjoys hunting, fishing, driving, and hanging out with friends. He has two older sisters and three dogs.
Further Shooting Accomplishments:
2014
Tennessee State Skeet Championship: 28 ga., .410 bore Sub Junior Champion and Runner Up Sub Junior HOA and Sub Junior HAA Champion
TN SCTP Region 2 Championship (Rookie Division): Skeet and Sporting Clay Champion
TN SCTP State Championship (Rookie Division):Skeet Champion, Sporting Clay Runner-Up, 3rd place Trap, and HOA Champion
TN SCTP All State (Rookie Division): Skeet Team Captain
SCTP National Championship (Rookie Division): Doubles Skeet Champion, Runner-Up Skeet Champion, and Runner Up HOA Champion
2015
Ron Goodman Memorial: 12 ga. Gun Champion, 12 ga., 20 ga., 28 ga., .410 bore, Doubles, HOA, and HAA Sub Junior Champion
Kentucky Western Zone: 12 ga., 20 ga., 28 ga., .410 bore, Doubles, & HOA Sub Junior Champion
Kreighoff Masters: 12 ga. & 20 ga. Sub Junior Runner-Up
DU Rock/Kolar Shoot: 20 ga. Sub Junior Champion, 12 ga., 28 ga., .410, HOA Sub Junior Runner Up, C Class HOA Champion
Max Quick Memorial: 12 ga., 20 ga., 28 ga., .410 bore, & HOA Sub Junior Champion
ORSA Junior Shoot – 12 ga. Sub Junior Champion
TN SCTP State Skeet Championship: Sub Junior Champion
Junior World Skeet Championship: 28 ga. Sub Junior World Champion
The Eagle 4×50: 20 ga., 28 ga., .410 bore, HOA Sub Junior Champion
Kentucky State Skeet Championship: Open Division – 12 ga., 20 ga., 28 ga., .410 bore, Doubles, & HOA Sub Junior Champion
Tennessee State Skeet Championship: 20 ga., .410 bore, & HOA Sub Junior Champion
Tennessee State Skeet Championship: Sub Junior All State Team Captain
Lee Tucker Memorial: 12 ga., 20 ga., 28 ga., .410 bore, Doubles, & HOA Sub Junior Champion
Dove Cookin' Open: HOA and .410 bore Gun Champion, 20 ga., .410 bore, & HOA Sub Junior Champion
TN SCTP Region 2 Championship (Rookie Division): Skeet, Sporting Clays, and Trap Champion
TN SCTP State Championship (Rookie Division): Skeet Champion, 2nd Trap Champion, HOA Champion, and Intermediate & Rookie Skeet Grand Champion
TN SCTP (Rookie Division) All State Skeet: Team Captain
SCTP National Championship (Rookie Division): Skeet Doubles Champion, Handicap Trap Champion, Runner-Up Skeet Champion, and HOA Runner-Up HOA Champion
2016
2016 All American Sub Junior 1st Team
Earned AA Class Ranking Recognition Pin for all gun gauges
Ron Goodman Memorial: 12 ga. & 20 ga. Gun Champion, 12 ga., 20 ga., 28 ga., .410 bore, Doubles, and HOA Sub Junior Champion
Kreighoff Masters: 20 ga., 28 ga., .410 bore, & HOA Sub Junior Champion
Pletcher: 12 ga., 20 ga., 28 ga., .410 bore, Doubles, & HOA Sub Junior Champion
DU/Kolar Rock: 12 ga., 20 ga., 28 ga., .410 bore, & HOA Sub Junior Champion
Kolar Mid-American: 12 ga., 20 ga., and Doubles, Sub Junior Champion
Max Quick: Doubles Gun Champion, 20 ga., 28 ga.,.410 bore & HOA Sub Junior Champion
Kolar Elite: Doubles, 12 ga., 20 ga., 28 ga., .410 bore, & HOA Sub Junior Champion
Northbrook Skeet Classic: 12 ga., 20 ga. & HOA Sub Junior Champion
Eagle 4×50: 20 ga. Gun Champion, Doubles, 12 ga., 20 ga., 28 ga., .410 bore & HOA Sub Junior Champion, 3rd HOA (Men's Division) Champion
Tennessee State Skeet Championship: All-State Team Captain
Tennessee State Skeet Championship:28 ga. Gun Champion & 3rd HOA Champion (Men's Division), 20 ga., 28 ga., .410 bore, Doubles & HOA Sub Junior Champion
The Kasle Family Charity Open: 12 ga., 20 ga., 28 ga., .410 bore, & Doubles Sub Junior Champion
Bluff City Open: 12 ga., 20 ga., 28 ga., & .410 bore Sub Junior Champion
SCTP All-Scholastic Team (Intermediate Entry/Division: Skeet and Sporting Clays)
TN SCTP All-State Skeet Team (Intermediate Entry Division)
2017
2017 All American Sub Junior 1st Team: Captain
Fish Fry Open: 12 ga., 20 ga., 28 ga., .410 bore and HOA Sub Junior Champion
The Blaser Skeet Classic: 12 ga., 20 ga., 28 ga., .410 bore, and HOA Sub Junior Champion, 12 ga. Class A Champion, 20 ga. Class A Champion and Class A HOA Champion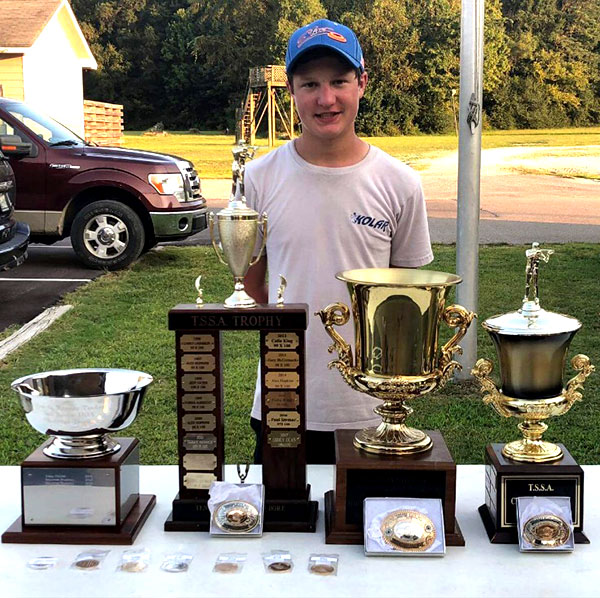 Kolar Arms Corporate Office
1925 Roosevelt Avenue
Racine, WI 53406
Ph: (262) 554-0800
Fax: (262) 554-9093