Sheaffer Stanfill
At an early age, Sheaffer began his shooting career at Eagle Skeet Club. It is a small club bordering Clarksville, Tennessee and is nestled in the hillside at Fort Campbell, Kentucky. Sheaffer has been coached by his dad ever he was a little fellow and able to pull the trigger to his shotgun. He has had great mentors from Eagle Skeet Club, where he first learned to pull targets for club members at the age of five. In fourth grade, Sheaffer began shooting competitively with the Tennessee Scholastic Clay Target Program (SCTP). Sheaffer's love of the sport and competitive spirit led him to give up his other favored sport of baseball. Shortly thereafter, in the fifth grade, he decided to focus solely on shooting, with an emphasis mostly on National Skeet Shooting Association (NSSA) registered events. By the age of 12, he achieved shooting a 100×100 in all gauges, a 200×200 at a registered competition, and his AA class ranking. Shortly thereafter, at the age of 14, Sheaffer achieved AAA class ranking in all gun gauges. While good mental focus at the skeet range is his passion and is of utmost importance, he also believes it is important to stay on target with strong academics. He maintains A Honor Roll status as a freshman in high school. Sheaffer's personal goals for the future include:  shooting a 400×400 before the age of 15, to win a men's world skeet title, and attend college for business and finance.
Sheaffer has won numerous regional, state and national titles since he started shooting in 2014 with the SCTP program. Major accomplishments for SCTP include the 2014 state championship in skeet and sporting clays, while taking 3rd in trap. He also captured the National Rookie Doubles Skeet Championship. In 2015, Sheaffer won the Tennessee SCTP Intermediate and Rookie Skeet Grand Champion and remained the defending National Doubles Skeet Champion. Although Sheaffer's time with SCTP was short, he earned yearly, the top spot as the captain of the Tennessee All-State Skeet Team and also earned a spot on the SCTP National Scholastic Team in both Skeet and Sporting Clays.
Although he started his shooting career with SCTP at the age of 9, in 2015, Sheaffer began shooting more NSSA events and has won numerous sub-junior titles, events, and competitions. His first major sub-junior title was at the age of 11 when his made his debut in the 2015 NSSA Junior World's Skeet Championship held in San Antonio, Texas winning the 28-gauge Sub-Junior World Championship and earning a spot with Team Kolar, under the watchful eye of John Ramagli. In 2016 and 2017, Sheaffer had many highs with great wins and suffered some lows with sickness, growth and gun fit. However, Sheaffer has never feared any adversity and continued to travel coast to coast competing and winning well over 200 sub-junior titles and has made the Sub-Junior Kreighoff All American First Team since 2015. The last two years, Sheaffer has been named the captain. He has high hopes for the 2018 team. Most recently, with a return trip to San Antonio, Texas, he competed in the 2018 NSSA Junior World Skeet Championship, and he became the 2018 Sub-Junior World Champion in Doubles, 12, 20,.410, Champ of Champs, and High Over All Champion falling one bird short in the 28-gauge event winning runner-up.
Additionally, since 2015, Sheaffer has paved the way with many additional accomplishments in the men's division for NSSA. Listed below are some of his more noteworthy championship accomplishments: 2016 Tennessee Men's State 28-Guage Skeet Champion (He is the youngest to win a state title in Tennessee.); 2017 High All-Around Champion at the Kolar Mid-American;  2018 Blaser 12-Guage Gun Champion; 2018 DU Rock High Overall Champion and High All-Around Champion; 2018 Western Open High Overall Champion; and he became the youngest to win the title of 2018 Tennessee State Skeet High Overall Champion. He also won the Tennessee state 28-Guage and .410 Gun Championship.
Sheaffer attributes much of his success to the craftsmanship of his Kolar Max skeet shotgun and custom stock built by Wenig Stocks. Additionally, he credits a huge part of his success to the good Lord, his parents, his shooting family and the great staff of Kolar Arms, Elite Shotguns, and Howell Traps.
Further Shooting Accomplishments:
2014
Tennessee State Skeet Championship: 28 ga., .410 bore Sub Junior Champion and Runner Up Sub Junior HOA and Sub Junior HAA Champion
TN SCTP Region 2 Championship (Rookie Division): Skeet and Sporting Clay Champion
TN SCTP State Championship (Rookie Division):Skeet Champion, Sporting Clay Runner-Up, 3rd place Trap, and HOA Champion
TN SCTP All State (Rookie Division): Skeet Team Captain
SCTP National Championship (Rookie Division): Doubles Skeet Champion, Runner-Up Skeet Champion, and Runner Up HOA Champion
2015
Ron Goodman Memorial: 12 ga. Gun Champion, 12 ga., 20 ga., 28 ga., .410 bore, Doubles, HOA, and HAA Sub Junior Champion
Kentucky Western Zone: 12 ga., 20 ga., 28 ga., .410 bore, Doubles, & HOA Sub Junior Champion
Kreighoff Masters: 12 ga. & 20 ga. Sub Junior Runner-Up
DU Rock/Kolar Shoot: 20 ga. Sub Junior Champion, 12 ga., 28 ga., .410, HOA Sub Junior Runner Up, C Class HOA Champion
Max Quick Memorial: 12 ga., 20 ga., 28 ga., .410 bore, & HOA Sub Junior Champion
ORSA Junior Shoot – 12 ga. Sub Junior Champion
TN SCTP State Skeet Championship: Sub Junior Champion
Junior World Skeet Championship: 28 ga. Sub Junior World Champion
The Eagle 4×50: 20 ga., 28 ga., .410 bore, HOA Sub Junior Champion
Kentucky State Skeet Championship: Open Division – 12 ga., 20 ga., 28 ga., .410 bore, Doubles, & HOA Sub Junior Champion
Tennessee State Skeet Championship: 20 ga., .410 bore, & HOA Sub Junior Champion
Tennessee State Skeet Championship: Sub Junior All State Team Captain
Lee Tucker Memorial: 12 ga., 20 ga., 28 ga., .410 bore, Doubles, & HOA Sub Junior Champion
Dove Cookin' Open: HOA and .410 bore Gun Champion, 20 ga., .410 bore, & HOA Sub Junior Champion
TN SCTP Region 2 Championship (Rookie Division): Skeet, Sporting Clays, and Trap Champion
TN SCTP State Championship (Rookie Division): Skeet Champion, 2nd Trap Champion, HOA Champion, and Intermediate & Rookie Skeet Grand Champion
TN SCTP (Rookie Division) All State Skeet: Team Captain
SCTP National Championship (Rookie Division): Skeet Doubles Champion, Handicap Trap Champion, Runner-Up Skeet Champion, and HOA Runner-Up HOA Champion
2016
2016 All American Sub Junior 1st Team
Earned AA Class Ranking Recognition Pin for all gun gauges
Ron Goodman Memorial: 12 ga. & 20 ga. Gun Champion, 12 ga., 20 ga., 28 ga., .410 bore, Doubles, and HOA Sub Junior Champion
Kreighoff Masters: 20 ga., 28 ga., .410 bore, & HOA Sub Junior Champion
Pletcher: 12 ga., 20 ga., 28 ga., .410 bore, Doubles, & HOA Sub Junior Champion
DU/Kolar Rock: 12 ga., 20 ga., 28 ga., .410 bore, & HOA Sub Junior Champion
Kolar Mid-American: 12 ga., 20 ga., and Doubles, Sub Junior Champion
Max Quick: Doubles Gun Champion, 20 ga., 28 ga.,.410 bore & HOA Sub Junior Champion
Kolar Elite: Doubles, 12 ga., 20 ga., 28 ga., .410 bore, & HOA Sub Junior Champion
Northbrook Skeet Classic: 12 ga., 20 ga. & HOA Sub Junior Champion
Eagle 4×50: 20 ga. Gun Champion, Doubles, 12 ga., 20 ga., 28 ga., .410 bore & HOA Sub Junior Champion, 3rd HOA (Men's Division) Champion
Tennessee State Skeet Championship: All-State Team Captain
Tennessee State Skeet Championship:28 ga. Gun Champion & 3rd HOA Champion (Men's Division), 20 ga., 28 ga., .410 bore, Doubles & HOA Sub Junior Champion
The Kasle Family Charity Open: 12 ga., 20 ga., 28 ga., .410 bore, & Doubles Sub Junior Champion
Bluff City Open: 12 ga., 20 ga., 28 ga., & .410 bore Sub Junior Champion
SCTP All-Scholastic Team (Intermediate Entry/Division: Skeet and Sporting Clays)
TN SCTP All-State Skeet Team (Intermediate Entry Division)
2017
2017 All American Sub Junior 1st Team: Captain
Fish Fry Open: 12 ga., 20 ga., 28 ga., .410 bore and HOA Sub Junior Champion
The Blaser Skeet Classic: 12 ga., 20 ga., 28 ga., .410 bore, and HOA Sub Junior Champion, 12 ga. Class A Champion, 20 ga. Class A Champion and Class A HOA Champion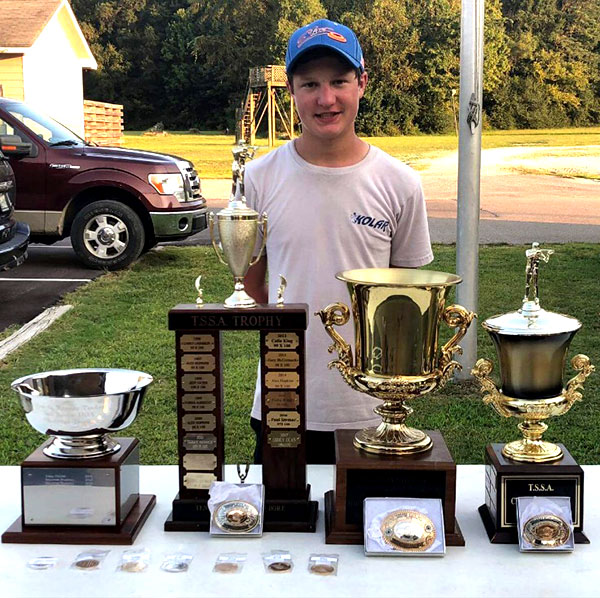 Kolar Arms Corporate Office
1925 Roosevelt Avenue
Racine, WI 53406
Ph: (262) 554-0800
Fax: (262) 554-9093