Allen McCannon
Allen McCannon was born on Christmas Day 1959 in Elberton Georgia. He has been in the granite industry his entire adult life and owns Tombstone Skeet Club. Allen and his wife Tammy have three daughters Christy (25), Jessica (23) and Allie (20).
Allen started shooting shotguns at the age of six and has been an avid hunter ever since. He helped build a local gun club in the early eighties and found that shooting skeet was a sport he truly enjoyed. He joined the NSSA in the mid-eighties and a shot in a few local tournaments. Then, in 1998 a close friend got Allen back into skeet shooting, which really began his competitive shooting.
Since then, he has been named to the All-American team thirteen times, three of which were the open team and has over 170,000-lifetime targets. Allen was honored to be inducted into the Georgia Skeet Shooting Association Hall of Fame in 2007. He has also served as president, vice president, and treasurer of the GSSA and has been an NSSA director for the state of Georgia for over eight years.
Shooting Accomplishments:
Thirteen-time NSSA All-American Team member
Fifteen-time Zone Team member
Fifteen-time State Team member
Ten plus time Georgia State Champion
2013 World HOA 3rd with 449 out of 450
2013 World COC 3rd
2013 Masters HOA AND HAA Champion
2012 US Open 410 runner-up
2010 Masters HOA 3rd
2003 Masters HOA runner-up
2003 Mini World 28 gauge Champion
2003 Mini World 410 runner-up
2001 RTP Champion with first 400 x 400
2013 fourteenth on high average list
Twenty plus one hundred straights with the 410
Visit Allen's Website: Where he answers questions, gives advice and has training videos to help shooters.
www.wamskeet.com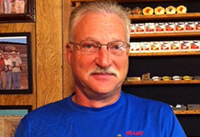 Kolar Arms Corporate Office
1925 Roosevelt Avenue
Racine, WI 53406
Ph: (262) 554-0800
Fax: (262) 554-9093