Hayden Wege
Hayden Wege, a 16-year old high school junior started shooting Trap and Skeet in the spring of 2016.  He fell in love with the game of Skeet shooting a Beretta semi-automatic and then started shooting a Beretta 682 Gold with sub-gauge tubes, which led him to shoot his first perfect game ever with 28 ga. tubes less than one month later.  He soon started shooting registered targets, went to the 2016 Junior World Skeet Tournament in Savannah Georgia, earned three medals, and in 2017 took home four medals from the 2017 Junior World Skeet Tournament in St. Joe Indiana.  This past 2018 season he shot nearly 8000 registered targets including the 2018 Junior World Skeet Tournament in San Antonia Texas where he came home with three medals in addition to winning the #3 Junior World Shooter High Over-All title for the Junior World Skeet Tournament.  Hayden has been on the Minnesota All-State Skeet team since 2017 and won many of his class and concurrent events in registered tournaments in 2018 throughout the Midwest, including his first 300×300 tournament and claiming his first HOA and HAA Champion titles and ending the 2018 shooting season as AAA classified.
Hayden hopes to one day shoot for a college.  Asking Hayden one thing he would like to improve on his game, "I know I could use work on my mental game – I think that's one of the toughest things to focus on as a teenager."  Hayden owes much of his success to Tony Lowe, his mentor and NSSA Certified Skeet Instructor who also coaches for the Minnesota Youth Shooting Program SCTP team, as well his mother Kristen Wege, who serves as Hayden's coach and is a Certified Shotgun Instructor, and the head SCTP coach for the Minnesota Youth Shooting Program.
Today Hayden shoots a Kolar Max Lite Skeet with a carrier barrel and sub-gauge tubes.  When asking Hayden why he chose Kolar, he says it's the USA made manufacturer with a lifetime warranty, and Kolar has always made him feel a special part of their family.  The customer service of Kolar is unbeatable, and Hayden attributes that to John Ramagli and his team including Sean Mainland and Elite Shotguns' Aaron Willoughby and Dan Lewis who have mentored him along the process of shooting a Kolar. Hayden also enjoys the outdoors including hunting, fishing, and camping with his mother.
Next Generation Skeet Shooting Catalyst:
Team Kolar Member
2018 Minnesota Skeet Shooting All-State Team
Shooting since April 2016
2018 12ga. Minnesota State Skeet Champion
1,000+ targets per week including 600 targets weekly for competition since 2016 and nearly 8000 registered targets for 2018
Relied upon to use good judgment
Sponsored by Kolar Arms, Elite Shotguns, Lonesome Charlies
#3 Junior World Shooter, 2018 Junior World Skeet Champion
AAA 12ga., AAA 20ga., AAA 28ga., AA .410, AAA Doubles
Ranked in top three for all Minnesota Skeet shooting
#1 league shooter at Minneapolis Gun Club
Enjoys challenges of problem-solving
Interface easily with all levels of the community
Proven collaborative and creative team contributor
Shooting Experience:
NSSA (Member #279253) Registered Shoots / Tournaments Recognition 2016 – Present
2018 31st Anniversary Shoot, Northbrook, IL
2nd Place Class, Concurrent Champion (98/100)
4th Place Class, Concurrent Champion (98/100)
Class Champion, Concurrent Champion (99/100)
.410 bore Event Champion, Concurrent Champion, Trophy (99/100)
HOA 2nd Place Event Overall, Concurrent Champion (394/400)
2018 Jewell Classic Skeet Tournament, Lincoln, NE
2nd Place Event Runner Up, Concurrent Champion, (100/100)
3rd Place Class, Concurrent Champion (97/100)
Class Champion, Concurrent Champion (98/100)
.410 bore 5th Place Class, Concurrent Runner-Up (93/100)
HOA 3rd Place Event Overall, Concurrent Champion (388/400)
2018 The Grizzly Bear Skeet Shoot, Iowa State Tournament, Waukee, IA
Concurrent Champion (97/100)
2nd Place Event Runner Up, Concurrent Champion, Medal (99/100)
2nd Place Event Runner Up, Concurrent Champion, Medal (99/100)
.410 bore Class Champion, Concurrent Champion, (97/100)
Doubles Event Champion, Concurrent Champion, Belt Buckle (97/100)
HOA Event Champion, Concurrent Champion, Belt Buckle (392/400)
HAA Event Champion, Concurrent Champion, Belt Buckle (489/500)
2018 87th Wisconsin State Skeet Championship, Sauk Prairie, WI
Event Champion, Concurrent Champion (100/100)
2nd Place Event Runner Up, Concurrent Champion (100/100)
2nd Place Event Runner Up, Concurrent Champion (100/100)
.410 bore Concurrent Champion (94/100)
HOA 2nd Place Event Runner Up, Concurrent Champion (394/400)
2018 Minnesota State Championship, Blaine, MN
Event Champion, Concurrent Champion, Trophy (100/100)
Class Champion, Concurrent Champion (99/100)
2nd Place Class, Concurrent Champion (98/100)
.410 bore Concurrent Champion (92/100)
Doubles 2nd Place Event Runner Up, Concurrent Champion (98/100)
HOA 2nd Place Class, Concurrent Champion (389/400)
2018 NSSA Zone 5 Championships, Sauk Prairie, WI
3rd Place Class, 2nd Place Concurrent Runner-Up, 2-Man Champion, Medal (100/100)
3rd Place Concurrent, Medal (96/100)
2nd Place Class, Concurrent Champion, Medal (98/100)
.410 bore Concurrent Champion, Medal (90/100)
Doubles 3rd Place Class, Concurrent Champion, 2-Man Runner-Up, Medal (96/100)
HOA Concurrent Champion, Medal (384/400)
2018 Junior World Skeet Championships, San Antonio, TX
HOA 3rd Place Event World Champion, Medal (392/400)
Competed in Champion of Champions, Doubles, 12ga., 20ga., 28ga., and .410 bore
Champion of Champions 3rd Place Class (97/100)
6th Place Concurrent, Medal (99/100)
3rd Place Event World Champion, Medal (100/100)
3rd Place Concurrent, Medal (99/100)
.410 bore (94/100)
Doubles 4th Place Concurrent, Medal (96/100)
2018 Harry Michelson Open, St. Joe, IN
Concurrent Champion (98/100)
4th Place Class, 2nd Place Concurrent Runner-Up (96/100)
2nd Place Concurrent Runner-Up (96/100)
.410 bore Class Champion, Concurrent Champion (95/100)
Doubles 2nd Place Event, Class Champion, Concurrent Champion (98/100)
HOA 5th Place Class, Concurrent Champion (388/400)
2018 SCTP American Team National Championship, Marengo, OH
2018 Northstar Open, Prior Lake, MN
Class Champion, Concurrent Champion, 2-Man Champion (100/100)
Concurrent Champion (94/100)
Concurrent Champion (97/100)
.410 bore Concurrent Champion (91/100)
Doubles Concurrent Champion (94/100)
HOA Concurrent Champion (382/400)
HAA Concurrent Champion (476/500)
2018 Big Bang, Blaine, MN
3rd Place Event Overall, Class Champion, Concurrent Champion (99/100)
4th Place Class, Concurrent Champion (95/100)
3rd Place Class, Concurrent Champion (93/100)
.410 bore Event Champion, Concurrent Champion, 1st Place Overall (95/100)
Doubles 2nd Place Class, Concurrent Champion (92/100)
HOA 3rd Place for Event, Concurrent Champion (382/100)
2018 Minnesota Masters, Prior Lake, MN
3rd Place Overall, Concurrent Champion (99/100)
3rd Place Concurrent (94/100)
3rd Place Class, Concurrent Runner-Up (97/100)
.410 2nd Place Concurrent Runner-Up (89/100)
Doubles 2nd Place Class, 2nd Place Concurrent Runner-Up (91/100)
HOA 2nd Place Concurrent Runner-Up (379/400)
2018 Kolar Mid-America, St. Joe, IN
2nd Place Concurrent Runner-Up (98/100)
2nd Place Concurrent Runner-Up (99/100)
Champion Concurrent (97/100)
.410 bore (85/100)
Doubles 3rd Place Concurrent (93/100)
HOA 4th Place Concurrent (379/400)
2018 74th 3I Skeet Championship, Peoria, IL
2nd Place Concurrent Runner-Up (95/100)
Concurrent Champion(96/100)
Event Champion (100/100)
.410 bore Concurrent Champion (93/100)
HOA Concurrent Champion (383/400)
2018 Vern Aanenson Memorial Skeet Shoot, Prior Lake, MN
3rd Place Event Overall, Concurrent Champion (98/100)
2nd Place Class, 2nd Place Concurrent Runner-Up (97/100)
3rd Place Event Overall, Concurrent Champion (99/100)
.410 bore 3rd Place Class, Concurrent Champion (95/100)
Doubles Event Champion, Concurrent Champion (99/100)
HAA Event Champion, Concurrent Champion (488/500)
HOA 3rd Place Event Overall, Concurrent Champion (389/400)
2018 Iowa-Nebraska Skeet Championship, Omaha, NE
2nd Place Event Overall, Concurrent Champion (98/100)
2nd Place Class, Concurrent Champion (95/100)
Concurrent Champion (91/100)
.410 bore 2nd Place Event Overall, Concurrent Champion (84/100)
HOA 3rd Place Event Overall, Concurrent Champion (368/400)
2018 Hall of Fame Shoot, Prior Lake, MN
2nd Place Class, 2nd Place Concurrent Runner-Up (98/100)
2nd Place Event Overall, Concurrent Champion (99/100)
2nd Place Concurrent Runner-Up (94/100)
.410 bore 2nd Place Event, Concurrent Champion(96/100)
Doubles Event Champion, Concurrent Champion (97/100)
HOA 2nd Place Concurrent Runner-Up (387/400)
2017 The Grizzly Bear Skeet Shoot, Iowa State Tournament
Concurrent Champion, Runner Up Class
Runner Up Concurrent
Runner Up Concurrent, 3rd Place Class
.410 Bore Concurrent Champion
Doubles 2nd Runner-Up Concurrent
2017 MSSA (Minnesota Skeet Shooting Association) State Tournament, Blaine, MN
Concurrent Runner-Up (98/100)
3rd Place Concurrent (95/100)
3rd Place Class, 3rd Place Concurrent (97/100)
.410 bore Runner Up Concurrent (93/100)
Doubles Class Champion, Runner Up Concurrent (95/100)
HOA Concurrent Runner-Up, 3rd Place Class (383/100)
2017 Junior World Skeet Tournament, St. Joe, IN
Competed in Champion of Champions, Doubles, 12ga., 20ga., 28ga., and .410 bore
Champion of Champions 3rd Place Class
5th Place Class, Medal
5th Place Class, Medal
.410 bore. 6th Place Class, Medal
Doubles 3rd Place Class, Medal
2017 Northstar, Prior Lake, MN
Concurrent Champion
Concurrent Champion
Class Runner Up
.410 bore Class Champion, Concurrent Champion
Doubles Class Champion, Concurrent Champion
HOA 3rd Place Class, Concurrent Champion
HAA Class Champion, Concurrent Champion
2017 Minnesota Masters, Prior Lake, MN
Champion
Doubles Class Champion
Runner Up Overall (98/100)
Class Champion
.410 bore Class Champion
HOA Class Champion
2017 Vern Aanenson Memorial Skeet Shoot, Prior Lake, MN
Class Champion
.410 bore Class Champion
2017 Hall of Fame Skeet Shoot, Prior Lake, MN
Class Champion
.410 bore Class Champion
2016 Junior World Skeet Tournament, Savannah, GA
Competed in Champion of Champions, Doubles, 12ga., 20ga., 28ga., and .410 bore
3rd Place Class, Medal
4th Place Class, Medal
Doubles 5th Place Class, Medal
2016 MSSA (Minnesota Skeet Shooting Association) State Tournament, Blaine, MN
Concurrent Champion, Class Champion
Concurrent Champion, Class Champion
Concurrent Champion, Class Champion, Trophy
.410 bore Concurrent Champion, Class Champion
Doubles Concurrent Champion and Class Champion, Trophy
HOA Concurrent Champion and Class Champion
Jefferson Senior High School Skeet League, Bloomington, MN – 2016 – Present
2018 Minnesota State High School Skeet Shooting Tournament Champion
3rd Place State overall, average 23.8, Spring 2018
Varsity Letter in Skeet, 2018
Varsity Letter in Skeet, 2017
Varsity Letter in Skeet, 2016
1st Place Conference, 1st Place Male, Spring 2018
1st Place Conference, 1st Place Male, Fall 2017
1st Place Conference, 1st Place Male, average 24.4, Spring 2017
2nd Place State Overall, average 24.4, Spring 2017
Three 25 Straight, Fall 2017
Three 50 Straight for 150+ targets shot consecutively, Spring 2017
Five 25 straight, Spring 2017
5th Place Conference, average 22.5, 2016
Jefferson Senior High School Trap League, Bloomington, MN – 2016 – Present
Varsity Letter in Trap, 2018
High Over-All Shooter for Jefferson Senior High School, Spring 2018
Varsity Letter in Trap, 2017
Varsity Letter in Trap, 2016
SCTP (Scholastic Clay Target Program) –  2017 – Present
2018 SCTP Spring Virtual Skeet Series, 1st Place
2018 SCTP Winter Virtual Skeet Series, 1st Place
NSCA (Member #654259) Registered Shoots / Tournaments – 2018 – Present
Minneapolis Gun Club, Priori Lake, MM – 2017 – Present
Club Skeet League
#1 Skeet league shooter with the gun club record high score, spring-summer 2018 (889/900)
Club fun league, team Legends of the Fall, fall 2017
#1 Skeet league shooter for spring-summer 2017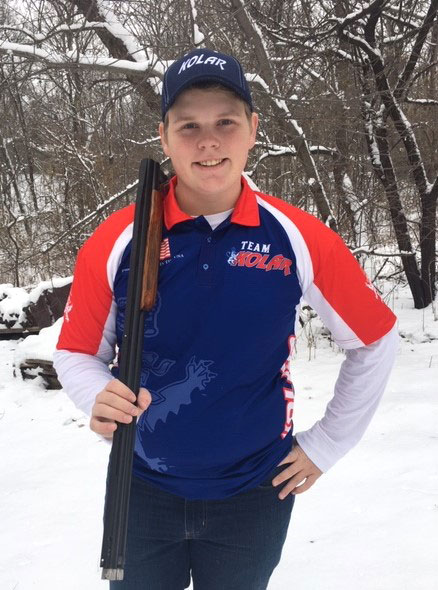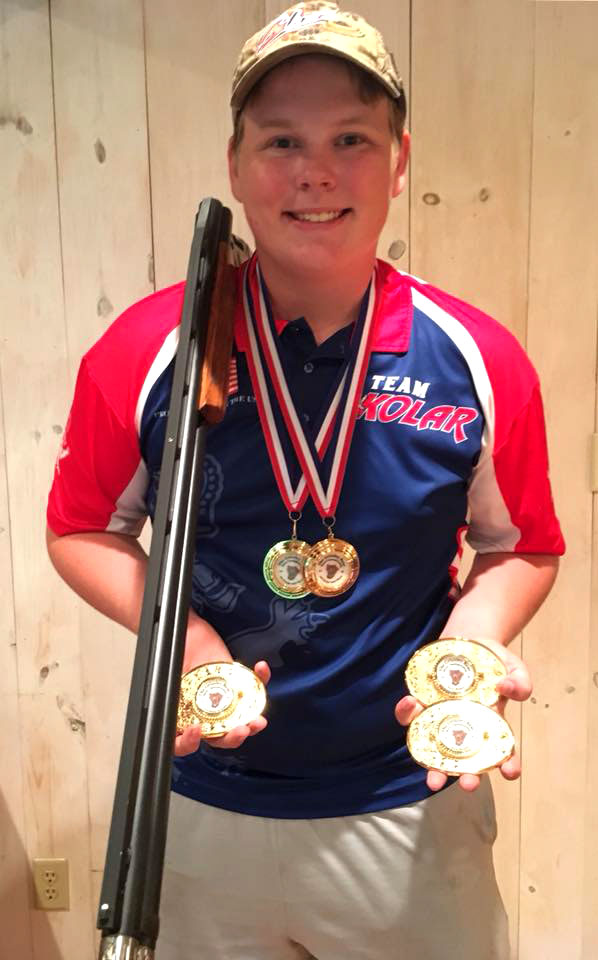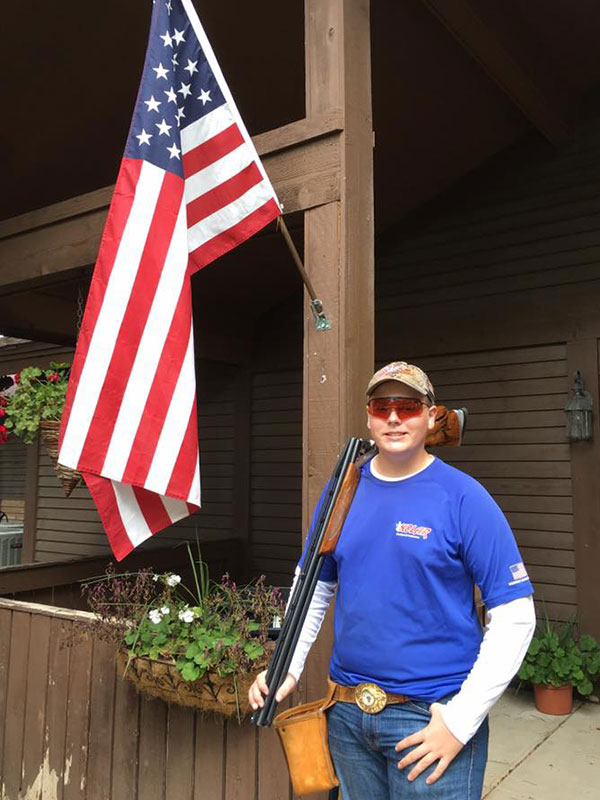 Kolar Arms Corporate Office
1925 Roosevelt Avenue
Racine, WI 53406
Ph: (262) 554-0800
Fax: (262) 554-9093